Water and Sewer Department
The Sayreville Water Operating Office is located at 3751 Bordentown Ave. Customer service is also available via phone @ 732-390-7060 or email water@sayreville.com Payments can be made via postal mail or on Sayreville.com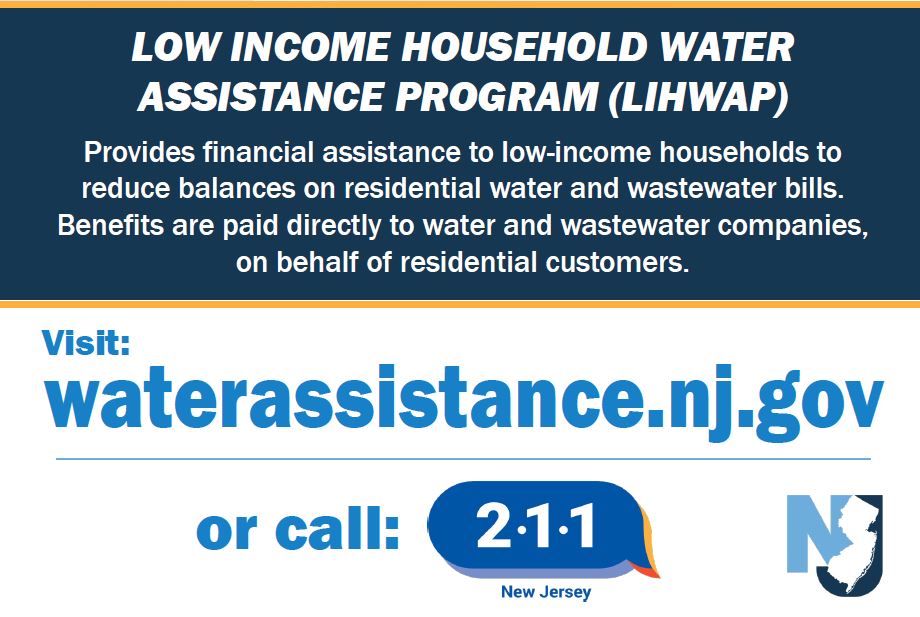 1/21/2022 - The Sayreville Water Department will be undertaking a lead service line removal program beginning July 2022. Please check back in the near future for updated information on lead piping and service line replacements.
To find the material composition of your service line CLICK HERE**
** Please note that service materials for all customers are not known at this time. During February 2022, the Water Department will be reaching out to all customers with lead and unknown service materials to begin final identification of water service lines.
The Water and Sewer Department is composed of 3 divisions. The divisions are Water Operating, Water Treatment and Sanitary Sewer. This department supplies water and sewer service to over 42,000 residents throughout the municipality.

WATER OPERATING
-The Water Department Office prepares and distributes all water and sewer bills quarterly. The town is divided into 3 sections for billing purposes A, B and C. Section A residents receives their quarterly bills in January, April, July and October. Section B residents receives their bills February, May, August and November. Section C residents receives their bills March, June, September and December. All bills are mailed out the first Wednesday of the assigned month. BILLS CAN NOW BE PAID ONLINE AT SAYREVILLE.COM If you are 65+ years, a senior discount is available click here New residents click here
This division maintains our water mains, valves and hydrants throughout the town.

SEWER DEPARTMENT
-This division oversees 126 miles of sewer mains as well as 9 pumping stations. We have 2 jet trucks and one camara inspection vehicle that are utilized to identify problem areas and address any issues.

WATER TREATMENT
-We maintain and operate a 7 MGD water treatment facility to supply water to the town. Our total storage capacity is 14 million gallons.
To view the current WQAA certification for the Borough of Sayreville Water Department, please click here
To view the 2022 Consumer Confidence Report click here
To view the current Water Rates click here
To view the current Sewer Rates click here
To view the current Miscellaneous Fees click here

IF THERE ARE WATER AND SEWER EMERGENCIES AFTER REGULAR BUSINESS HOURS OR ON WEEKENDS CONTACT THE SAYREVILLE POLICE DEPARTMENT AT 732-727-4444 AND THEY WILL CONTACT OUR PERSONNEL.

The Borough of Sayreville would like to advise all of its customers of the following: The homeowner is reponsible for the lines going from the water and sewer main to the house itself. WE ARE ONLY RESPONSIBILE FOR THE MAIN LINES. For additional information please refer to ordinance #14-2.2 (Owners Responsibility)