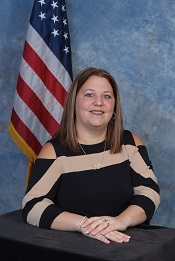 Jessica Morelos, R.M.C.
Municipal Clerk


The Municipal Clerk's Office in many instances is the heart of the municipal operation. The Clerk, by virtue of her position, serves as liaison officer between the governing body and taxpayers. She also serves as Election Official for the Primary, General, School and Special Elections held in the Borough and Custodian of Records.

The Clerk's Office is also responsible for the following:

*Licensing as follows:
dogs & cats, liquor, bingo/raffle, peddlers, trailers, dumpsters, barber/beauty shop,
taxi/limo, wreckers, mechanical amusements, solicitors, junkyards
*Elections - including Voter Registration
*Processing of Open Public Records Act requests
*Bids and Contracts for various projects
*Borough Agreements
*Bonds
*Road Opening Permits
*Handles correspondence sent to the Mayor and Borough Council
*Keeps all documents and maps of Wetlands Permits, Redevleopment Plans, Land Use Regulations, Master Plan, Design Standards etc.


The Clerk's Office is located at 167 Main Street on the 3rd Floor, Room 303.

We are open from 8 am until 4 pm Monday through Friday.
Phone: 732-390-7020
Fax: 732-390-0509

For Marriage Licenses, Birth and Death Certificates and copies of same please contact the Board of Health

Report Street Light Outages
Must have pole number and call 1-888-544-4877
Connect With Us:
Twitter: Follow @SayrevilleBoro
Facebook: SayrevilleBoro