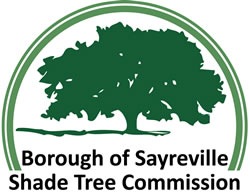 Created by Ordinance #1110 adopted in 1973 to consist of 3 members and amended by 1516-85 (increased to 5 members) & 604-99 (increased member to 7 members & 2 alternates #1 & #2 - all borough residents appointed by the Mayor for 5 year terms.)
Mary Novak, Council Liaison
---
2021 Board Members

Anne Marie Kolb
Joyce Major
Stella Misiewicz
Art Rittenhouse, Chairperson
Michael Macagnone
Heather Yannone-Pawski
2021 Meeting Schedule
3rd Thursdays of the Month at 6:30PM, unless otherwise noted
January 21
February 18
March 18
April 15
May 20
June 17
July 15
August 19
September 16
October 21
November 18
December 16

Notices Regarding Ash Trees/Emerald Ash Borers

Identifying Ash Trees
Managing Emerald Ash Borer

Arbor Day in Sayreville 2010
Sayreville's Shade Tree Commission conducted tree plantings with the Boy Scouts and Shade Tree Chairman Rich Herban conducted an educational seminar.


Accepting the award (from left to right) is Councilman Ken Kelly, Shade Tree Member Laurie Occhi, Shade Tree Member Phil Emma and State Forester James S. Barresi.




Borough of Sayreville is awarded
Tree City USA
The Tree City

USA

program, sponsored by the Arbor Day Foundation in cooperation with the USDA Forest Service and the National Association of State Foresters, provides direction, technical assistance, public attention, and national recognition for urban and community forestry programs in thousands of towns and cities that more than

135

million Americans call home.

The many benefits of being a Tree City include creating a framework for action, education, a positive public image, and citizen pride.

The award was presented to Sayreville during New Jersey's 61st Arbor Day Celebration held in Newark on April 30, 2010.