The Sayreville Historical Society was founded in 1974. It has adopted as its motto "Preserving the past to serve the future" and aims to promote an interest in history, focusing especially on that of the Borough of Sayreville.
Monthly meetings, open to the public, are held on the second Thursday of the month from September through June. Held at the Sayreville Senior Citizens Center, they begin at 7:30 PM and host guest speakers covering a wide range of topics of community and historical interest.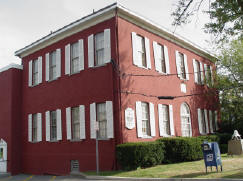 Sayreville Museum
Residents are always welcome and are invited to join the society. To become a member of the society, send your name, address, phone number and membership fee to:
Miss Phyllis Baumann, Membership Chairperson
Sayreville Historical Society
18 Quaid Street
Sayreville, NJ 08872
Membership fees are as follows:
· Individual - $10.00
· Senior Citizens (62 years of age or older ) - $6.00
· Secondary School Student (under 18 years of age) - $4.00
· Lifetime - $100.00
Officers and Trustees 2005 - 2006
· Arthur Rittenhouse, President
· Jason Slesinki, Vice President
· Mary Ann Weber, Corresponding Secretary
· Adam Rosinski, Recording Secretary
· John Kosakowski, Treasurer
· Christine Dominik, Trustee
· J. Lorraine Laubach, Trustee
· Adele O'Hara, Trustee
· Ed Pytel, Trustee
A coverlet commissioned by the Historical Society and created by We Love Country. It is 100% cotton, two-layer, jacquard woven in the USA, preshrunk, color fast and machine washable. It is handsome and practical, measuring 50X70 inches and fringed on all four sides.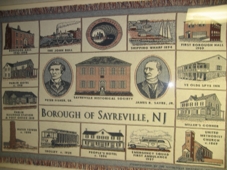 The design captures the history of the Borough of Sayreville. The perfect gift for family members and friends both near and far.
Mail Orders to:
Amy Puchala
Sayreville Historical Society
45 Foch Street
Sayreville, NJ 08872
Make Check for $45 / coverlet payable to the Sayreville Historical Society
Specify: Name, address, city, phone, quantity.
A new publication titled "Images of America - Sayreville" has been prepared by the Sayreville Historical Society. Sayreville's rich heritage permeates throughout the 128 pictorial pages of this absorbing edition. One views the growth of a once agricutural community of hardworking immigrants into what is now a thriving Borough of 41,768 people of diverse ethnic backgrounds. The tiring and painful experiences of Sayreville's early inhabitants are vividly transmitted to the reader. This book is a "must have" for all Sayreville residents and those of adjoining communities. Priced at only $19.99 "Images of America - Sayreville" is available at bookstores.
The Sayreville Historical Society Museum in existence since 1984 is located at 425 Main Street. The Society oversees the Museum, presenting various appropriate exhibits throughout the year.
The Museum is open Sundays from 1:30 to 4:00 PM.
---