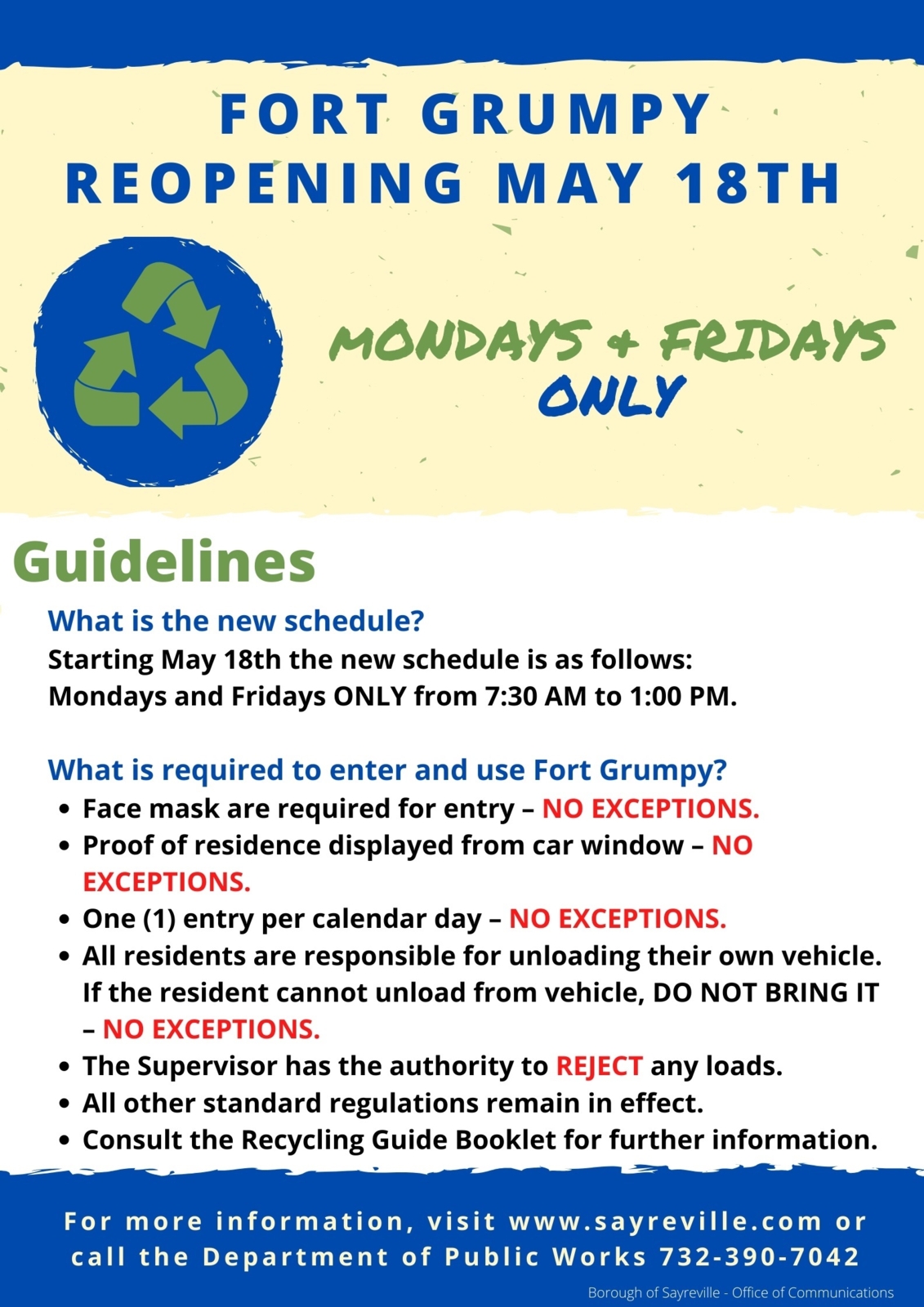 Fort Grumpy / Recycling Center
Opening May 18, 2020
Monday and Friday ONLY : 7:30 AM to 1:00 PM
Mask required for entry – NO EXCEPTIONS
Proof of residence through window – NO EXCEPTIONS
1 trip per day – NO EXCEPTIONS
Resident must "off load" their own vehicle – NO EXCEPTIONS
The Supervisor has the authority to REJECT any load
All other standard regulations remain in effect. Consult Recycling Guide Booklet for further information.
THE NEXT SCHEDULE FOR HEAVY TRASH IS IN JULY
FORT GRUMPY
NO BOX TRUCKS OR FLATBEDS ARE ALLOWED
FORT GRUMPY ACCEPTS BULK TRASH ITEMS (COUCHES, CHAIRS, WOOD, ETC.) FROM 7:30 AM ONLY UNTIL 1:00 PM ON MONDAY AND FRIDAY ONLY.
RECYCLABLE ITEMS (GLASS BOTTLES/JARS/CARDBOARD/NEWSPAPERS) ARE ACCEPTED AT FORT GRUMPY ON MONDAY AND FRIDAY FROM 7:30 AM UNTIL 1:00 PM ONLY
PLEASE CALL 732-390-7043/7044 IF YOU NEED FURTHER INFORMATION


PLEASE NOTE THAT PROOF OF RESIDENCY IS REQUIRED.
(DRIVERS' LICENSE, WATER BILL OR TAX BILL)

ALL STANDARD REGULATIONS APPLY